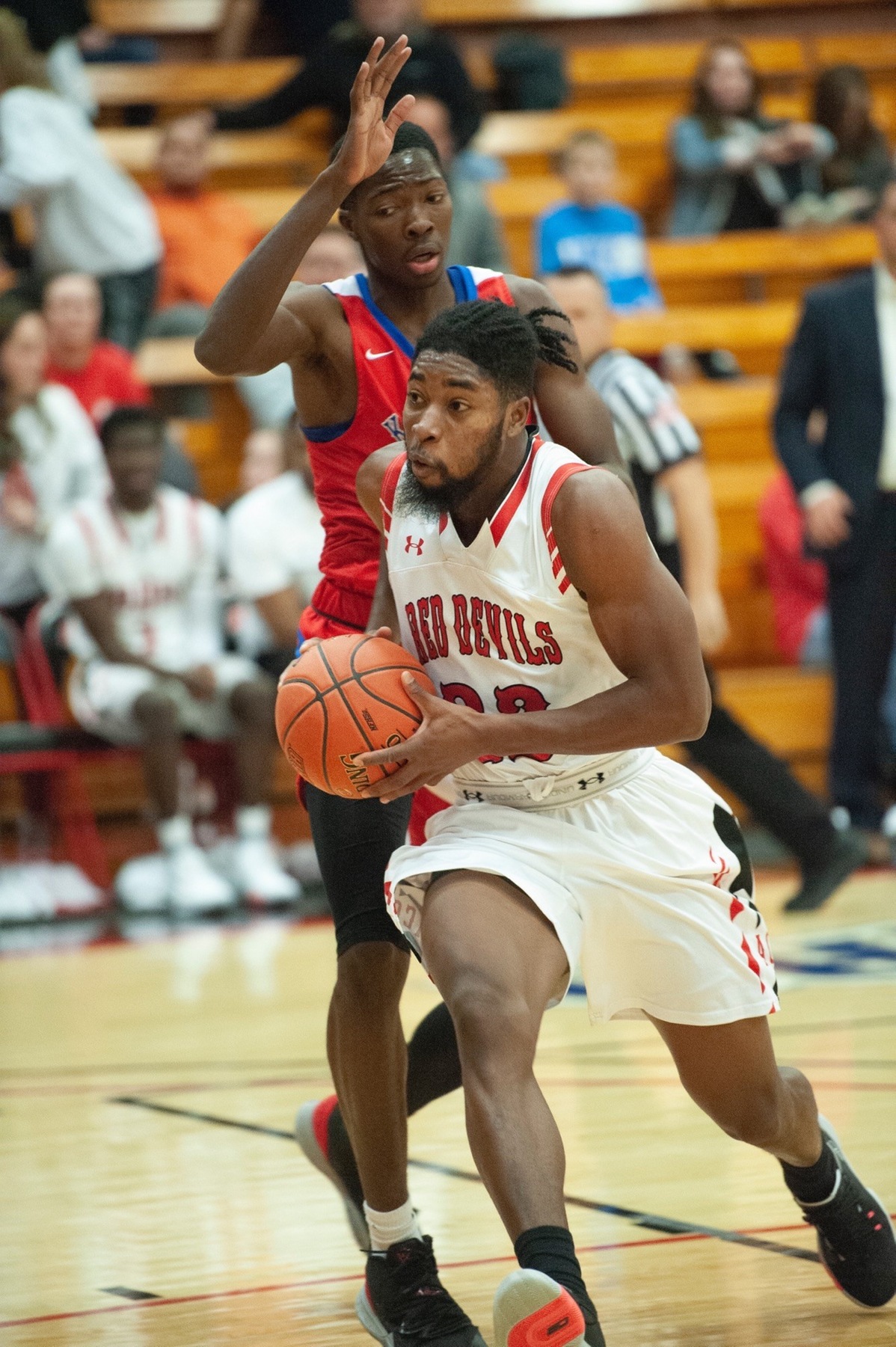 The Allen men's basketball team ended their 3 game losing streak, with a big conference road win at Cloud County 73-70. In the early going the Red Devils trailed the Thunderbirds, but stayed within striking distance. Late in the first half Allen went on a big run as Trez Hankins connected on a 3, and Shaikim Jenks followed up knocking down back to back 3's to give the Red Devils an 11 point lead at the break (44-33).
In the second half the teams went back and forth, and Allen pushed their lead to the largest of the game at 13 points. Cloud would respond with back to back 3's and a steal for a runout layup to cut the deficit to 5 points. After a timeout the Red Devils would regain their composure and pushed the lead back to 9 points midway through the half. Cloud would not go away and both teams struggled to score in the final minutes.
With under a minute it appeared like Allen had the game in hand, but Cloud made a tough contested 3 to keep it interesting. Shaikim Jenks made 2 free throws and push Allen's lead to 3 points with under 15 seconds remaining. After a timeout, Allen was called for a foul on a 3 point attempt, which gave Cloud a chance to tie the game. Fortunately Cloud went 2-3, and the Red Devils made 2 more free throws, and Clouds half court heave was off the mark.
The Red Devils were led in scoring by Joel Boyce with 25 points on 8-11 shooting from the floor. Shaikim Jenks had a big game with 14 points and the game sealing free throws. Tyus Jeffries and Malik Hardmon each scored 10 points.
In the end the Red Devils squeaked out a tough 3 point win 73-70. This win makes Allen 13-7 on the year, and 8-3 in KJCCC play. Next, Allen will host the nationally ranked and #1 team in the conference Cowley Tigers. Game is set for 4:00 PM.