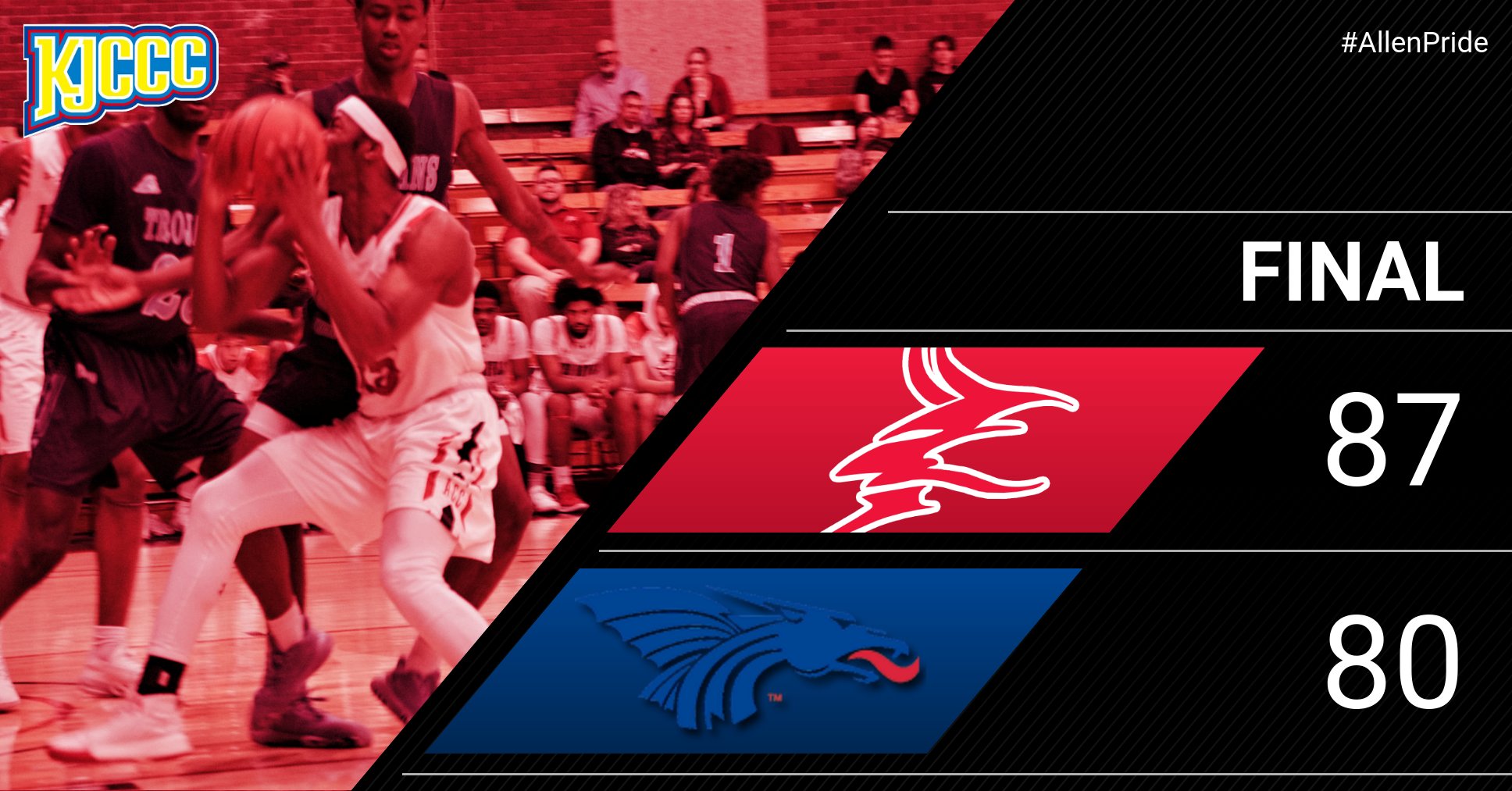 The Allen Men's Basketball team kicked off the new year with a big road win over #5 nationally ranked Hutchinson Community College. The game stayed close for the entire contest as Hutch's largest lead was 8 points, and the Red Devils largest lead was 7 points. In the first half both teams were very efficient from the floor, and both teams struggled to get defensive stops. Hutch would shoot 57% in the first half and Allen shot 50% for the half. In the closing seconds of the first half Hutchinson held a 6 point lead, but Tyus Jeffries gave Allen all of the momentum going into the locker room as he drained a half court shot to pull the Red Devils within 3 at the break (43-46).
In the second half the Red Devils would remain within striking distance, but Hutch seemed to always have an answer on the offensive end every time Allen would threaten to take the lead. Around the 4 minute mark the Red Devils finally got over the hump and took a 72-71 lead. Trez Hankins earned an old fashioned 3 point play to extend Allen's lead, followed by some free throws from Tyus Jeffries. Shaikim Jenks also made a big runner in transition to keep Allen in front. Hutch would keep things interesting in the final minutes, but Allen was able to take care of the ball and make free throws down the stretch to earn the 87-80 final result.
Malik Hardmon had a monster night for the Red Devils as he connected on 16 of his 20 attempts to finish with 39 points to lead all scorers. Hardmon also grabbed 7 rebounds and blocked 3 shots. Tyus Jeffries also came up big with 18 points and 4 assists. Trez Hankins was the only other Red Devil to reach double figures with 14 points. This was a total team effort and the highest ranked team that Head Coach Andy Shaw has ever defeated in his time at Allen Community College.
The Red Devils push their win streak to 10, and are now 11-4 on the season, and 6-0 in KJCCC play. Next up Allen will be on the road again Wednesday as they take on Northwest Tech in Goodland, KS.