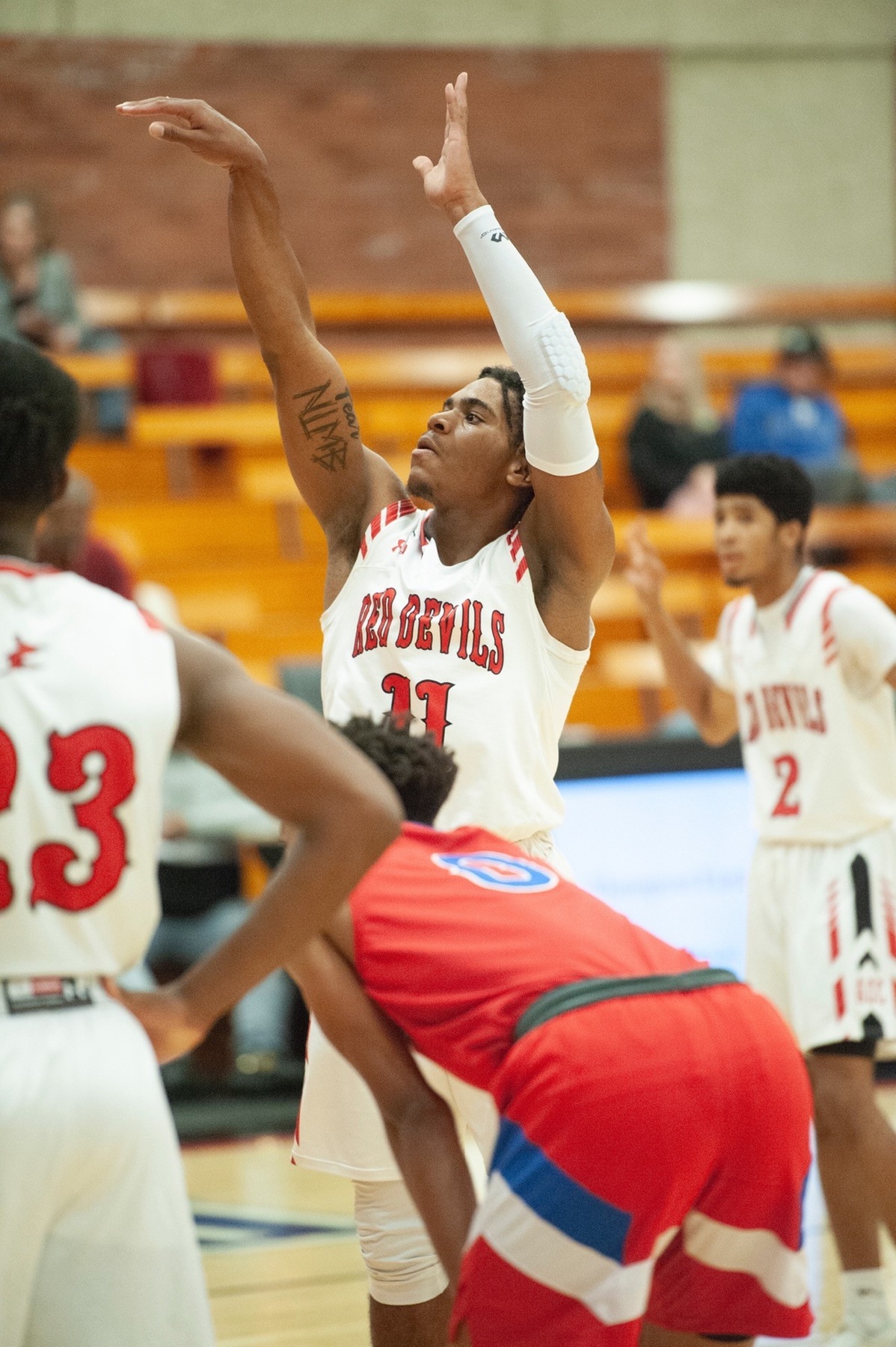 The Allen Men's Basketball team earned their first true road win of the season at Fort Scott Wednesday night. The game was supposed to be played the day before but no referees showed up on Tuesday so the game was postponed until Wednesday at 5:30. The final score ended 75-65 in favor of the Red Devils. Allen got off to a great start and quickly held a 14-2 advantage over the Greyhounds in the first 5 minutes of play. From there the scoring would slow down over the next 5 minutes of play. Fortunately for Allen the Greyhounds struggled scoring and the Red Devils held their lead for the first half.
In the final seconds of the first half the Red Devils scored and had a 12 point lead, but Fort Scott quickly pushed the ball and nailed a 3 right at the half time buzzer. The Red Devils took a 9 point lead into the break (35-26). In the early going of the second half Allen would hold their lead between 8 and 12 points. Canaan Daniels knocked down several second half 3 point field goals to help Allen extend their lead to 20 points with under 10 minutes to play. The Greyhounds did not quit, and slowly tried to chip away at the Red Devil lead. Fort Scott would get as close as 8 points in the final few minutes of play. Allen also struggled from the free-throw line in the final minutes to keep the door open for Fort Scott. The Red Devils would hang on and hand Fort Scott their first loss of the season.
Allen was led in scoring by Tyus Jeffries with 16 points on 7 of 12 shooting from the floor. Jeffries also grabbed 5 rebounds and recorded 7 steals for the game. Joel Boyce continued his solid play with 14 points on 5 of 8 shooting and also grabbed 6 rebounds. Freshman point guard Cedric Rollerson also reached double figures with 13 points on 4 of 6 shooting.
This win pushes Allen back over .500 with a record of 5-4 on the season. Next up Allen will begin KJCCC play with a road game at Pratt next Wednesday (11/27) at 7:30 PM.